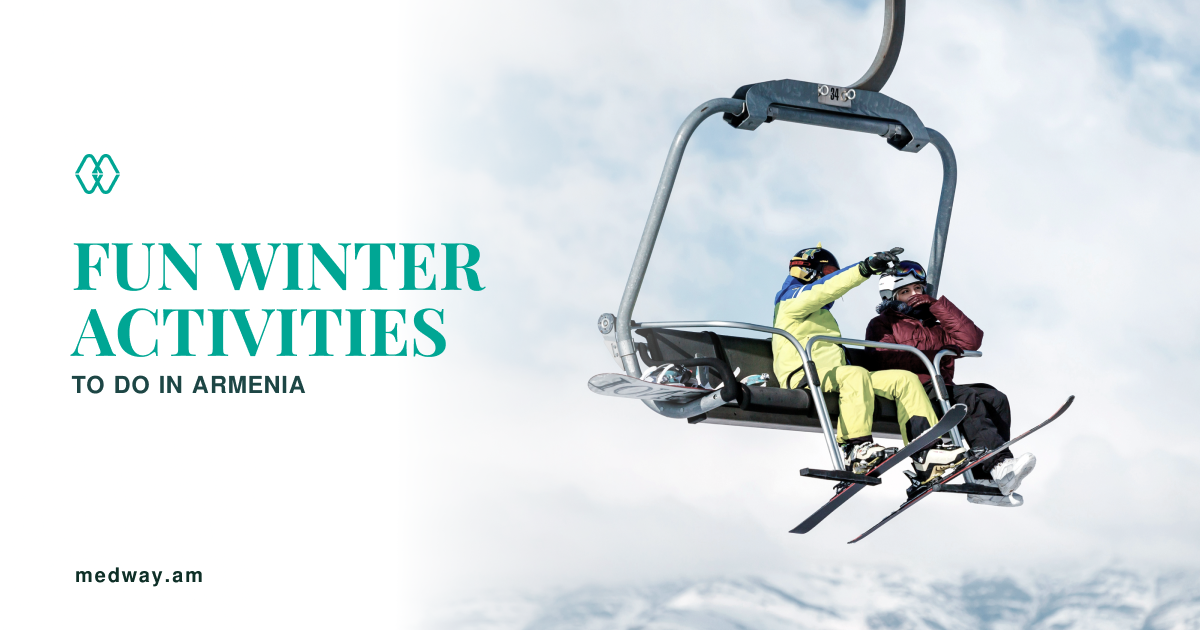 Fun winter activities to do in Armenia
17 Oct, 2022
There really is nowhere else quite like Armenia during the winter. Armenia is a country that can be enjoyed in all 4 seasons. Summertime, however, is when most visitors come—but you might be surprised to find out how many fun and festive activities are there in Armenia during winter months.
The perfect time to visit Armenia in winter is from December through February, especially for those who want to enjoy the snow. When traveling to Armenia in winter, make sure you are aware of how cold the temperature can get. In the capital city of Yerevan, the temperature varies between 8 degrees Celsius and -10 degrees Celsius. If you're visiting mountainous areas, especially in the provinces, it will get twice as cold as the temperature in the city. However, regardless how cold it gets, you will forget about it when you're enjoying all the fun activities Armenia offers.
Skiing
Skiing is a popular activity in Armenia during winter. When the first snow falls in Armenia, ski lovers immediately take it to the slopes. No matter what kind of skier or snowboarder you are, whether it's your first time or your 100th trip down the slope, you will have a blast. There are 3 towns people usually go skiing in Armenia which are Tsaghkadzor, Jermuk, and Ashotsk.
Tsaghkadzor is the most popular ski resort in Armenia, as it is located an hour away from Yerevan and has a favorable climate. Mount Teghnis, located in Tsaghkadzor, is the main destination for skiers. The highest skiing point on mount Teghenis is located at an altitude of 2819 meters.
Next comes Jermuk. The ski resort is located in the southern part of Armenia in Vayots Dzor province. Although the ski slopes are slightly smaller than Tsaghkadzor, Jermuk is great for beginners. Besides being a great destination for skiing, you can enjoy the beautiful scenery of Jermuk, such as the frozen waterfalls and spa resorts.
Ashotsk is another ski resort in Armenia. It is located in the Shirak province where the climate is dry and is the snowiest region in Armenia. Many international and local competitions take place in Ashotsk. Ashotsk will soon be considered the main skiing destination in the republic of Armenia and will become an international skiing center.
Ice skating
Ice skating is the most fun winter activity that you can do if you do not want to leave Yerevan. There are closed and open ice skating rinks in Yerevan. The famous ice skating rink is located right in the center of the capital which is called the Swan lake. Swan Lake turns into an ice skating rink during the winter months. Another open air skating rink is located in the Winter Park. This one is bigger than the Swan Lake and offers other winter activities in the park as well. For those who enjoy indoor ice skating, the biggest and the best one is located in Karen Demirchyan Sport Complex Center.
Hot springs
Soak in the relaxing natural hot springs that Armenia offers and quietly enjoy the beauty of winter with your family and friends. Hot springs during winter are a great way to warm up and relax. The best destination to enjoy a relaxing hot spring experience is Jermuk Hot spring and Geyser located in Vayots Dzor Province, and Hankavan Thermal Springs located in Kotayk province. Both offer natural hot mineral springs with healing properties.You can also spend the night there and stay at one of the hotels in the region, which offer breathtaking views of snow-covered landscapes. Other hot springs destinations in Armenia are Arzakan Hot springs in Aghveran, Tatev Thermal Springs and Spitaklich Thermal Spring in Ararat Region.
Winter dining
Every country has its own traditional food for winter. Armenia's popular winter dish is Khash. You can find this dish in almost all traditional Armenian Cuisines, but the best place to dine in and eat Khash is in Mount Aragats, 4,090 m the highest point in the Armenian highlands. Usually, people in winter hike all the way to Mount Aragats just to eat Khash. Khash is a soup made from cow or pig trotters typically eaten in the morning with fresh garlic and served with dried lavash on top and a shot of vodka. Khash is best eaten when you have a hangover, or on a cold winter day when you want to warm up with a hot soup.
Winter bazaar and festive programs
Yerevan, just like major European cities, goes Christmas crazy with a rich festive programs and traditional Christmas bazaar markets. You can find several stalls or booths that sell goodies, treats, winter beverages, festive ornaments, decorations, and other Christmas essentials at the republic square. The winter bazaar is also a great place to enjoy the Christmas spirit with your friends and family. It's a fun time for kids too, where they can meet and take pictures with Santa Claus. Besides the winter bazaar, festive programs such as New Year's Eve are widely celebrated at the heart of Yerevan where celebrations begin with live concerts, followed by colourful fireworks and a big crowd of people dancing until 5 am.
Conclusion
To conclude, there's no place like Armenia in winter. Whether you want to stay in Yerevan or in the provinces, you will find plenty of activities and places to visit that will make you enjoy your winter stay. Whether it's skiing that you like, ice skating, or soaking in hot springs, you will definitely enjoy your time spent in Armenia. Winter may be cold in Armenia but the scenery and activities are worth the visit.